Welcome …
Whether you're an East Texas rental property owner, long term tenant, or a vacation property customer, there are major differences in the services you'll receive from real estate and property management companies. You see, there are companies and real estate brokerages that provide property management services as a sideline, an adjunct to their other business. Then there are companies like Pristine Property Management that specialize in property management. It's our focus, whether you're an owner or a renter. We focus on your needs and total satisfaction.
Pristine Property Management has been managing their personal investments in the East Texasreal estate markets for many years. We know the area, amenities, school systems, government and jurisdictional regulations, and the specialized needs of both owners and renters. You see, we understand the requirements of both sides of a successful rental relationship and want to use our personal experience to improve your situation.
Locals Love Us
We need your support!!! Please take time to vote!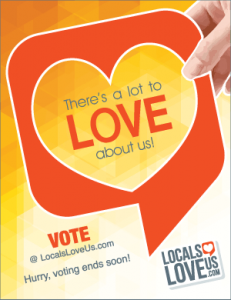 READY TO BE A HOME OWNER!!!!  CHECK OUT OUR SISTER COMPANY COMPANIES SITE BY CLICKING ON THE HOME BELOW!
I was referred to Pristine Properties by Ramsey Real Estate. They spoke very highly of this company and they could not have been more accurate. I called them not knowing anything about property management or leasing my home and had an interview the next day with a full explanation of what to expect.
The following day I signed on with them, they showed my house and secured a tenant within 48 hours! I look forward to working with them for a very long time. Sincerely, Melissa Morton Longview, TX
This team of ladies (2 of them) are awesome. They are motivated, honest and will take care of you whether you are looking for rental property for you or your family or needing someone to promote your property or properties.
Lynn Maupin and her staff are excellent to deal with and handle any problems that arise with my properties. I appreciate the professionalism they show with managing my property.
I highly recommend them to handle your property management needs.